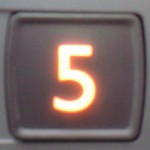 This week my top five picks feature three articles about how to improve your website. Whether its calls to action, landing pages, or making your site mobile-friendly, you'll find something to help your web marketing efforts.
The last couple of picks feature information that can help improve your B2B marketing processes. In both cases it can be small changes that make big differences in how well things are working.
Hope you find something you find helpful. Leave a comment if you've found an especially helpful tidbit this week. I'd love to hear about it.
Until next week!
Finding the Right Calls-to-Action for Your B2B Website via @sengineland
If MarketingSherpa research is any indication, most B2B marketers aren't thrilled with the calls to action on their website. This article gives some good ideas on how to figure out if yours are working and how to improve them.

How to Make Your Website Mobile Friendly (And Keep Your Readers Happy) via @copyblogger
More and more people are using mobile devices to view web content. Is your website prepared? This article gives some great tips on how to make sure you don't turn mobile viewers away.

Should B2B SEO Include Landing Pages? by @copywriter4u via @b2bbloggers
Conversion should always be the first priority when it comes to landing pages, but that doesn't mean you have to exclude SEO copywriting where appropriate. This article has some great tips on how to make SEO work and not impact your conversion rates.

Buyers Set the Pace for B2B eMarketing by @ardath421
The instantaneous nature of the web (not to mention social media) gives the impression that speed is a good thing. A necessary thing. Here's the clincher though. Buyers are in control of the process and on their own timetable.

Want a Bigger Marketing Budget? Send Less Leads to Sales by @brianjcarroll
Are you like the 80 percent of marketers who pass along unqualified leads to sales? If so, you are making a costly mistake. Not just for your department, but for the whole organization. An interesting take on how to do things a little differently.
*Image courtesy of sideshowbarker