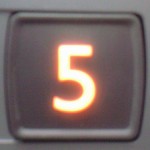 This week's top five list features an article about the importance of writing as a marketing skill, a nice blogging ebook, and how to develop a social media content strategy.
There's also a nice post that talks about how much marketing has changed over the last few years. It's a change driven by content marketing and shifting the focus from push to pull. If you're in any doubt about that, check out MarketingSherpa's announcement that they're changing the name of their Great Minds newsletter to Inbound Marketing.
Enjoy!
Writing is a Critical B2B Marketing Skill by @ardath421
There's no doubt about it. Marketing is driven by content. Do you have the critical skills needed to be a player in the new world of B2B marketing?
The New Marketing World: Conversations not Campaigns by @brianjcarroll
We're all in the midst of a radical transformation in how B2B marketing works. Check out this article for more insights in how to move from campaigns to conversations. There's some great examples.
Content Marketing: 13 Examples to Get You Inspired by @michelelinn via @junta42
I don't know about you, but I love seeing examples of how things work in the real-world. This post has some great ones.
7 Things Blogging Does [Plus a Free Ebook] by @kbodnar32 via @hubspot
How would you like to increase your web traffic and qualified leads? Companies with blogs do. Check out this article to see what blogging does for you and access a great free ebook.
How to Develop a Social Media Content Strategy by @therichbrooks via @smexaminer
Social media strategy has its foundation in content strategy. This post has some great advice on how to make sure the two are tied together.
*Image courtesy of sideshowbarker