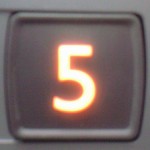 Sorry for the long absence! As most of you know, I've been working on moving my website both to WordPress and to a new domain. I'm happy to report I'm finally finished, and the new site is working beautifully. Plus it's a dream to maintain and update. Gotta love that!
I've really missed blogging over the last couple of weeks, but I've still been out checking out the great information other folks are putting out there. So this week I'm back on track with a top five post and next week I'll be back with some fresh new content as well.
This week's posts focus on web development myths and maximizing the results your website generates. Hope you find them useful.
Until next week!

5 Web Development Myths Debunked by @HelenaBouchez via @MarketingProfs
Great article on the myths of web development and what really makes it difficult. (It's not SEO!) I came face to face with myth #2 and #4 in the process of moving my website – which ended up including a change of hosting vendor as well!

You've Got Mail. Now Answer It. by @diannahuff
Ever send an email to a large company? What kind of response did you get? I'd be willing to bet it was dismal. The sad thing is that large companies aren't alone in this. I've even heard of companies not checking an email address set up to handle sales inquiries for days at a time. Yikes. Check out this article on how companies misuse (and miss out on) email opportunities.

The Three Biggest Mistakes Companies Make with B2B Websites by @diannahuff via @junta42
Quick test. Is your website an asset? Or an expense? How you answer this question tends to show how the website is viewed and therefore maintained. Maintaining a website is a big thing, and a lot of companies still get it wrong. Check out this article for the three biggest mistakes.

7 Common Website Redesign Mistakes via @hubspot
Website redesigns are hard work, as I've learned over the last month. Don't waste all that work by making these 7 mistakes.

5 Landing Page Tests You Might Not Have Thought Of by @ianeverdell via @enquiro
Part of the beauty of the web is that everything can be measured and tested. Great article on some things you might not have thought to test on those all-important landing pages.
*Image courtesy of sideshowbarker