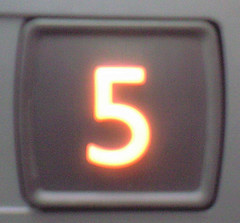 As you might imagine, I do a lot of reading around the blogosphere each week. It's an effort to both keep up with what's happening in the B2B space and learn something new.
In an effort to share items which I thought were particularly awesome, I'm going to start posting my top 5 picks each week. It'll be a kind of one-stop shopping for you and give some love back to those who are sharing some great information.
Here's this week's picks:
5 Ways to Build Your Blog's Voice by @GeorginaLaidlaw via @ProBlogger
Anyone who's written for more than five minutes has struggled with finding their voice. For companies, voice can be a particularly tricky problem. This post gives great ideas for building a voice readers will enjoy.
Your Prospects Don't Know Who You Are by @diannahuff
"Our customers already know who we are." Yeah, maybe. But what about your prospects? This post discusses why relying on the "everyone knows who we are" philosophy can get you in trouble…and send business straight to the competition.
How Remarkable Does Your B2B Content Need to Be? by @michelelinn via @Savvy_B2B
With all the pressure to create "remarkable" content, it's no wonder B2B marketers can feel overwhelmed. This post provides some great advice on how to move past being paralyzed to creating content that speaks to buyers.
How Much Should Brands Pay for Content Marketing? by @juntajoe
Now that B2B companies are put into the position of being a publisher, the cost of content creation is an ongoing concern. This post takes a thoughtful look at how to determine how much content should cost and how companies can determine what's right for them.
Living by the Content Rules: Have Some Fun by Ann Handley (@MarketingProfs)
Ok. So technically this was from last week, but this post was too good to pass up. Companies are often tempted to create content without personality. Don't be boring. This post takes a look at how you can have both a serious B2B business and content with personality.
*Image courtesy of sideshowbarker