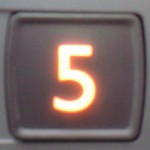 This week's top five starts with analysis of a fresh batch of research from Eccolo Media on what B2B Technology Buyers like in their collateral.
It's followed by some posts on how to be a thought leader and become a trusted expert resource.
All content is meant to have prospects take some sort of action. If you think you may fall short in this area, check out the post on how to improve your calls-to-action.
Last, but not least, see some metrics on the impact of Google Instant.
Enjoy this week's reads and let me know if you've found something you think I've missed. Until next week!

B2B Technology Buyers Share Their Content Preferences by @StephanieTilton via @Savvy_B2B
Eccolo Media just released their third annual B2B Technology Collateral Survey Report. In this post Stephanie summarizes the collateral buyers like the most and when they're most likely to consume it. It's a must-read for anyone in the B2B technology marketing space.

When Thought Leadership Isn't by @ardath421
As a B2B copywriter, I often hear that the reason for pursuing a particular piece of content is to "show thought leadership." This post examines what comprises true thought leadership. As the title implies, it also discusses what doesn't.

4 Content Curation Ideas to Implement Now by @juntajoe
Ever feel overwhelmed with too much information? If you're like me it's your normal state of being. And your customers and prospects feel the same way. If you want to position as an expert, you have to show them which information to pay attention to. This post has four great ideas that will get you started.

5 Signs Your Call-to-Action Needs a Makeover by @dianafreedman via @hubspot
If Sherpa research is any indication, call-to-actions are something a majority of marketers struggle with. This post gives you the warning signs your call-to-action isn't pulling its weight and some quick steps you can take to get better results.

Google Instant Impacts on SEO Measured by @enquiro
There's been lots of talk and speculation about how Google Instant will impact existing SEO strategies. This post shares some example measurements from a live site. Interesting to check out.
*Image courtesy of sideshowbarker