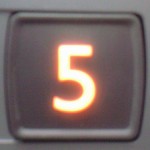 Boy the weather has turned here in Ohio over the last week. Talk about going from the dog days of summer to fall-time breezes! But I was ready for the change.
If you want to change some thinking and turn assumptions on their head, I've got a couple of posts for you. Check out the first two on the pick list.
This week's other choices give some good data about who's on your targeted social media site, how to avoid direct mail mistakes and discuss what "engaging" content means. All are great reads.
Enjoy this week's picks and let me know which ones you found to be most helpful.
Until next week!

Are B2B Marketers Shooting for the Wrong Target? by @jeremyvictor via @B2Bbloggers
If you ask marketers what their biggest challenge is, chance are you'll hear "getting more high-quality leads." But is that really the best way to think about this issue? Does it address what marketers have to do to make it happen? This post examines these questions and makes for some interesting discussion.

Do You Really Need to Write for Search Engines? by @heatherlloyd
Errr. Really? But as Heather points out, it's a valid question. "Regular" online writing won't really cut the mustard if you want someone to be able to find you via search. There are a few exceptions (and she points those out), but all that "writing stuff" really is important.

Social Media Demographics: Who's Using Which Sites? via @flowtown
If you've been wondering who uses the social media sites you've targeted, check out this chart. It take eight of the leading social media sites including Twitter, LinkedIn, and Facebook and shows usage by gender, income, education, and age.

The 12 Most Common Direct Mail Mistakes…and How to Avoid Them
If you aren't using direct mail in your program, you might want to reconsider. In Eccolo Media's recent survey of B2B Technology Buyers over half said they'd gotten white papers and other collateral via a direct response campaign. And it was considered the third most influential channel. If you're thinking of using direct mail, check out this great article from Bob Bly on how to get the best results.

Want to Develop Engaging Content? First Step: Understand What Engaging Means by @michelelinn via @junta42
We've all heard it. If you want to do great things, then build engaging content. And we all nod. But do we really know what engaging means? This post talks with several experts and gets to the bottom of what engaging content is.
*Image courtesy of sideshowbarker