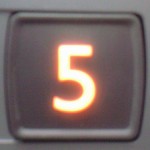 This week's list of picks features articles and posts with a heavy emphasis on content marketing. As you'll see in the article from eMarketer, content marketing isn't really an option anymore.
It's a must-have.
And whether you're an old content marketing pro or just getting started, this week's top five list will have something that will help you stand out.
Enjoy!
2011 Trends: Content Marketing is Critical via @emarketer
The title says it all. Interruption marketing just doesn't work as well as it used to. Engaging content is the wave of the future.
B2B Lead Nurturing and Social Media by @ardath421
Great article from Ardath Albee. Social media is not some stand alone method. It is integrated into your overall content marketing (and marketing efforts). Read on to see just how much.
The Three Rules of Content Marketing by @juntajoe
Companies are publishers. It's time to face up to that fact, cast aside visions of trying to measure up to The New York Times and just get your content marketing program going.
Baring Your Corporate Soul via @enquiro
Great article on how companies like to try to bury their personality, culture and unique methods --- the very things that make them remarkable.
How to Craft a Marketing Story that People Embrace and Share by @copyblogger
All marketing tells a story. Just admit it and make yours the best story it can be.
*Image courtesy of sideshowbarker