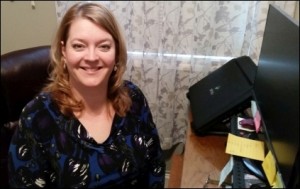 I know deciding to go with a new copywriter can be tough.
After all, you have a lot riding on your marketing program. You need things to be done right the first time. And you're looking for a partner who can create the business results you need.
I created this page to help you get to know me, so you can determine if my experience and approach fit with what you're looking for. I discuss my business background and past results I have achieved, my education and training, and why I'm different from other writers you may have worked with in the past.
A History of Business Results
My first "real" job out of college was working for Delphos Herald, Inc., a company that owned several community newspapers. Before I knew it, I was promoted to the position of publisher at one of their locations. Within two years revenue was up over 20 percent and profits had increased by nearly 128 percent. I was so successful that I was transferred to a location approximately twice the size of the first. I was able to create some good results there too, increasing profits by nearly 130 percent.
Being responsible for every aspect of the operation was challenging, but I had my first taste of running a business and I was hooked. I especially liked mixing all the different elements of working at a paper -- writing, marketing, sales, personnel, and production. It was a great education, and a terrific experience.
After five years I was ready for a change and went to work for an e-learning company called MindLeaders. I started as a developer creating questions and other interactive content for the online courses, but quickly moved back into management. Within two years I was running a start-up group creating custom online training. Because the group was a start-up, we had to figure out a lot of processes as we went. The learning curve was steep, but it paid off. Custom development had a high proportion of customers coming back for additional work, and over 90 percent of our customers were extremely happy with the process and the course they received.
My next challenge was handling the release of the main off-the-shelf courses the company produced each quarter. I negotiated feature sets, documented requirements, communicated with stakeholders, provided marketing content, and generally made sure everything was going well with the product. I maintained a flawless on-time release record, and implemented sales training to help the sales staff understand and position the benefits for each new feature release.
From there, it was a logical next step to move into the marketing department as a product manager. I wrote website copy, updated brochures, created white papers, interviewed customers, and did many of the other tasks which are common in a busy B2B marketing department. The white papers, in particular, were a new thing for us and I have created every one the company has released.
Now I'm working as a freelance copywriter and marketing consultant. It combines many of the elements I found most enjoyable from many of my previous roles. I particularly enjoy working with B2B marketers to help them achieve their business goals.
Education to Complement Experience
I have a top-notch education to complement my business experience. I received my B.A. in English from the University of Notre Dame and my M.B.A. from The Ohio State University, Max Fisher College of Business. I've also had extensive training as a copywriter.
I studied the Six Figure Copywriting program from American Writers and Artists Institute (AWAI), generally regarded to be one of the best copywriting programs available. In addition, I've completed specialty training for B2B copywriting and website copywriting. These programs were created by Steve Slaunwhite and Nick Usborne, respectively. They are two of the top copywriters in the industry, and are well known in their chosen niche. I invest in continuing education and stay up to date on trends and technologies that affect B2B copywriting and marketing.
Why I'm Different
My professional opportunities have been very good to me. Unlike many writers, I have direct experience in business management, sales and B2B marketing. Thanks to working for a training company, I understand adult learning principles and writing to teach. Finally, that training company was also a technology company so I've had the benefit of learning about enterprise technology solutions, as well as how to make a business case for technical capabilities.
When you hire me, you get a copywriter who "gets it." I understand the importance of positioning benefits and making a solid business case. I can easily translate technical topics for a non-technical audience. I can apply adult learning principles to help educate buyers. And I can create clear copy that speaks to your ideal prospect and moves them to take action.
I also use proven project management processes to ensure each project meets your expectations and deadline. I look forward to partnering with you in your marketing efforts.