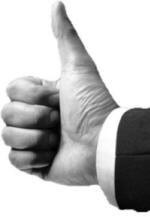 What's one of the most valuable pieces of collateral you can have in your B2B marketing toolkit?
Case studies. Customer stories. Success stories.
Whatever you like to call them, they're marketing gold. And survey after survey shows customers value them. Take Eccolo's recent survey of technology buyers and influencers. Nearly 80 percent of respondents said case studies were moderately to extremely influential in their decision.
And getting your customers to talk about their experience with you not only influences prospects to do business with you, it can even trim the sales cycle.
Since case studies are so valuable, you want to make sure and get the most impact you can. Here's three ideas on how to do exactly that.

#1: Be Strategic
In the excitement of getting a customer who's interested in doing a case study, it's easy to forget to be strategic. But just like any good piece of collateral, you need your case studies to speak directly to the kind of prospects you want to attract. After all, you want the prospect to see themselves in the story – not just that you can fulfill your end of the bargain.
Getting a portfolio of great case studies takes some planning. First, you want a case study for each of your products and how they're used in the different verticals you sell to. Ideally you'd also want to target specific personas with your studies. For example, the impact of an e-learning program is going to be different from the line manager to the HR manager to the CEO. They'll each have a different story to tell. Try and get them all.
This also means some occasional housecleaning. Case studies for customer segments you no longer serve or for products you are phasing out need to be removed or put on the list for updates.

#2: Consider Different Formats
Case studies take time and energy to create. And sometimes the biggest hurdle is getting your customers to agree to do them in the first place. So don't waste the opportunity to get a case study in multiple formats.
Eccolo's survey showed a preference for written case studies, but video is quickly gaining ground. You may think that video is a no-go because of increased cost and production time. But customers don't necessarily want fancy videos that are clearly scripted and edited. Many are looking for casual conversations with customers that do the same kind of work they do.
This means a quick trip with a video camera may be all you need to get a video that resonates. And it's something to consider. Having a case study in both written and video format means that you get a lot of bang for your buck and prospects can choose the format they prefer.

#3: Get the Most Mileage
Most companies post case studies on their websites. Make sure they're easy to find and with the related product or vertical information. But don't stop there! Here's just a few more ways to get a lot of mileage from your case studies:
Handouts for sales people (specific to the client)
Handouts for trade shows
Premiums for direct mail promotions
Feature articles in your newsletter
Fodder for blog posts
Source material for testimonials
Feature content on social media sites
Feature as "next step" downloads from white papers (or use cases)
Use for industry award applications
Celebrate successes internally (builds morale)
I'm sure there's more ways to get mileage from your case studies, but these should get the juices flowing.
What do you think? How have you gotten the most from your case studies? Any surprises? Other must-haves that I missed?
* Image courtesy of joeltelling