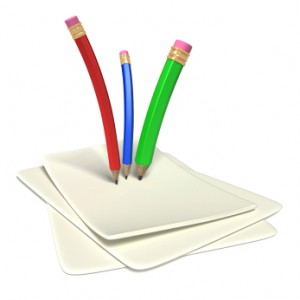 When you think "creative brief" you may automatically think "ad agency." And that's ok. Creative briefs are well within the traditional stomping grounds of agencies. Many won't start a project without one.
Interestingly, while clients seem happy to provide key project information for a creative brief, they often look at it as an agency product. Too often they look at it as something unique to agency projects.
It's not.
A good creative brief is a vital document that should be done for every marketing project regardless of who's involved. Even if it's an internal project. Even if it only involves a freelancer or two.
Why?
Here's three reasons why you need a creative brief for every marketing project.

They Set Expectations
A good creative brief sets expectations for the project. It answers key questions such as:
What is the project? (i.e. banner ad, white paper, e-mail, etc.)
Why are we doing the project (i.e. sales, lead generation, brand awareness, etc.)
What are the deadlines for the project?
What are key deliverables for the project?
These are questions to answer before the project begins. Especially if the project involves outside resources such as agencies, freelancers, or internal resources borrowed from another department. The folks you're utilizing may or may not be marketers. They may or may not understand how this project fits into the big picture. And they may or may not have time constraints that work with the deadlines you want.
You have to tell them what they need to know and set them up for success. In short, you have to set their expectations for what you are doing, how it will be done, and how much effort it will take to do it. A creative brief will help you do exactly that.

They Define the Audience
I once had a salesperson come into my office and toss a brochure onto my desk. "Why did marketing make this?" the person asked. "Who is it designed for?"
One look at the brochure told me it was a generic product brochure that listed every feature we thought any buyer might possibly be interested in. Not a great approach for a good brochure.
Why not?
It wasn't geared to a specific audience. A marketing piece, whether or not it's a brochure, will perform better if it is focused on a specific audience.
A good creative brief defines the audience for the project. And defines it well. That means you can't put "HR executive" as your audience.
The brief should pull from your personas and have a mini description of the ideal person you are targeting. What they do for their organization. How well they do it. What their pain points are. What they love about their job. What they hate about it.
You get the idea.
The audience description doesn't have to be a tome, but it should be robust enough to put a clear picture of the prospect in everyone's mind. Then they can go out and create a project that's just for the folks you want to reach most.

They Show Desired Results
I've had the experience of working on a marketing piece and asking why the piece was being created. More than once I've gotten answers like "because the competition has it" or "because our sales manager wants it." Ok. I get the motivation, but basing your marketing strictly on answers like these is..well…crazy.
Why do I say that? Let's just start with the basics. Do you have any idea if a piece is successful for your competitor? If you know it is, do you know why? Do you know why the sales manager wants the piece? How will you know if it's seen as successful? Unanswered questions like these are trouble waiting to happen.
Of course, the scariest answer to the "why are we doing this" question is the deer in the headlights expression. Or silence. In other words, the person I asked had no idea.
Yikes!
No one wants to feel they're being given what my elementary teachers used to refer to as "busy work." And marketing pieces are too expensive to build without having a clear goal.
A good creative brief prevents these issues by defining desired results. It answers questions like:
What do we want to accomplish with this piece?
What action do we hope the prospect takes after they see it?
How will we know if they've taken it?
How will we measure success?
Would you want to work on a project that doesn't have clear expectations? Or be able to say when it was successful?
Mmmm. Didn't think so.
A good creative brief doesn't have to be a tome, but it's far more than a checklist or a cut and paste document. It sets the tone for your team. Ideally it should start the brainstorming process and get the creative juices flowing. And it should help ensure everyone understands and is working toward the same goal.
For more on how to build a good creative brief check out this presentation from True Digital. Also check out Jay Baer's take on Content Rationale Reports. They'll help you get a good start.
In the meantime, I'd love to hear from you. What's your experience? Do you think creative briefs are a must-have?